walnuts, glitter, plaster, English textbooks, photos of Beijing-based foreign teachers, jars, audio collected during the exhibit of walnut sounds. 2018.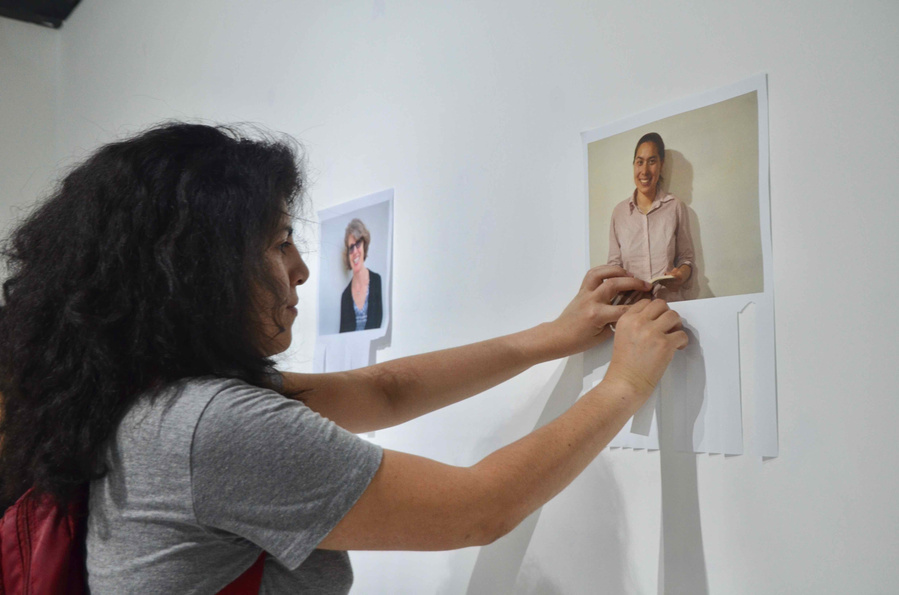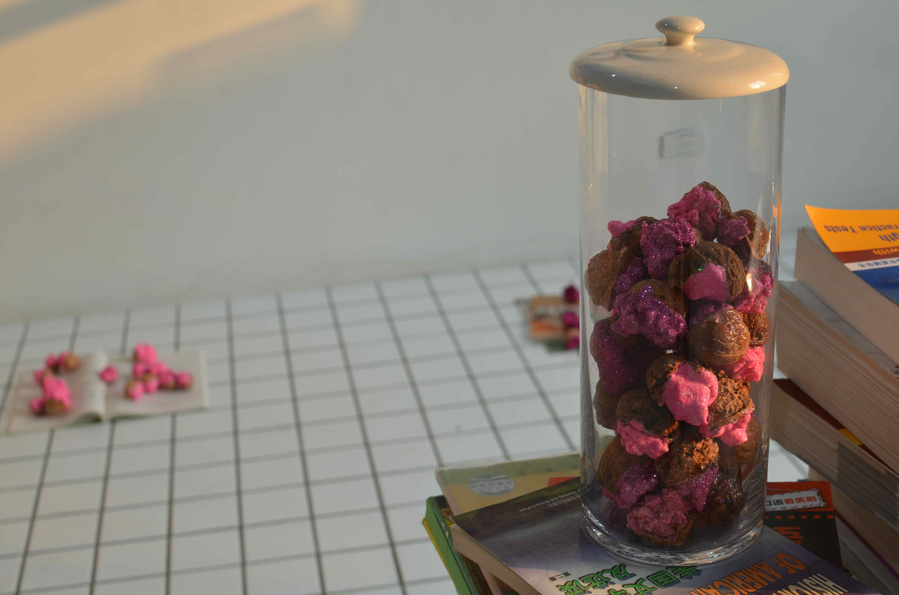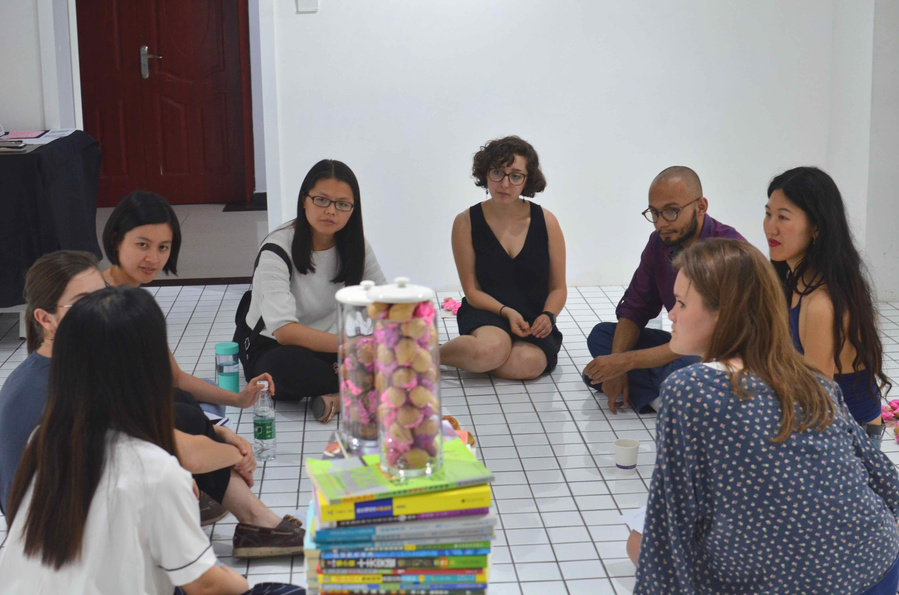 Amalya Megerman | 文玩: Cultured Playthings
June 27 – July 4, 2018
六月27号 – 7月4号, 2018
PIL公共形象公司
北京东城区鼓楼东大街206号
No.206, Gulou East St, Dongcheng District, Beijing
As a little girl, I hated pink and I hated glitter. It stood for all the weakness, all the traditional femininity, all the stereotypes that could be expected of me as a girl. To this day, I still find glitter revolting, and I wanted to explore that discomfort.
In 2017, I began collecting walnut shells while living in Xinjiang, China's second-largest walnut production region.
In China, polished or hewn out walnuts are a type of 文玩 (wénwán) - plaything, curio, object for enjoyment and appreciation. In imperial times, emperors, officials, and other elites used them to promote circulation in their hands. Between 2008 and 2014, a walnut "bubble" emerged and burst as China's newly wealthy looked to them as an investment commodity, re-enlivening walnuts' role as a status symbol. At one time, they could be even more expensive by weight than gold.
Men, from young to old, can be seen rotating a pair in their hands while walking down the street, wearing them as bracelets, or hanging strings of them from their rearview mirrors. While I don't know if I've ever seen a woman in China revolving a pair of walnut shells in her hand (though I'm sure there are those who do), I've certainly seen hundreds, if not thousands, of men do so. In this way (aside, of course, from the none-too-subtle innuendo of rotating a pair of balls in one's hand), I see walnuts as having accrued a certain masculinization here. But when split open, I see the shells as ample metaphors for a set of expectations and stereotypes around femininity that contrasts sharply with the metaphors that glitter holds.
***
Since the 1600s, foreigners have been coming to China to teach English. However, it wasn't until the end of the Cultural Revolution in the late 1970s that a strong fervor for learning English began to develop. Today, English is an over 30 billion yuan (approximately $4.5 million USD) industry. For many people, learning English represents access to better education, career opportunities, economic mobility, and ascension into the elite, as well as the ability to make not only oneself, but China as a whole, more globally competitive, particularly within the global north. However, in addition to aims of competing with these countries, the desire for English fluency also speaks to the cultural capital that emulating European-ness or whiteness holds.
What is that tone, that eye-roll, the quiet but audible judgement when someone hears another say they are an English teacher in Beijing? What discomforts are they speaking to
This show has many facets for me, but one important element is that I hope for it to be a jumping off point for conversations about race and foreigners' daily engagement in China. While conversations about white privilege are much a part of discussions of life in the US, it is my experiences teaching and living in China that have made me most tangibly aware of the privileges my skin carries and asserts. Particularly in a city like Beijing, with the wealth and privilege it is home to, I feel there is often an unspoken hope that my classes will not only provide a space in which to learn English, but a space in which to learn whiteness as well, a space in which to absorb by osmosis my mannerisms, my privilege, to make students' paths to success a bit more tenable.
These hopes and others often allow for situations in which any white body, regardless of credentials, will do, and abuses of these circumstances inevitably result, to the detriment of students, parents, teachers of color, and beyond – the consequences ramify. When women, both foreign and Chinese, constitute the majority of teachers at the primary and secondary level in China, we must also think of how these women are particularly impacted by this imbalance. As a white foreign English teacher, this show is a way for me to think more critically about my participation in this system, the choices I make as I engage with life here on a daily basis, and both of their impacts on others. I recognize that in doing this work, in the words I write here, and my engagement beyond, it is near inevitable that I have and will speak or act in ways that may be problematic. But I'm working through it, and hope you will share your thoughts and reactions with me.
Perhaps the foreign teaching industry is yet another bubble that will burst, an explosion of textbooks and glitter.
-Amalya Megerman
作为小女孩,我就很恨粉红色和金葱粉。当时我把它们看作所有的弱点,所有的传统女人气,所有的对女孩品貌的规格和刻板印象的象征。即使现在我还感觉金葱粉很不堪入目/极其讨厌的。我想探索那个感觉。
在2017年我住在新疆的时候我开始收集核桃壳。
在中国的古代,文玩就是皇帝,臣僚,精英用来促进循环。从2008年到2017年,在中国的中产阶级越来越多,同事一个核桃"泡沫"出来而破灭了。当时很多新的富有者把核桃文玩看作另外一个投资商品,重新让核桃表达地位。曾经有一段时间它们的体重比黄金还要贵。
你平常能街上能看到男人,从挺年轻到老,把一对核桃在手心里转起来,或者带者核桃手镯,在后视镜上挂一串核桃。虽然我不知道我是否见过一个女人在中国旋转一堆核桃在她的手里(但我敢肯定有女人这样做),我无疑看到过数百,容或可能数以千计男人有这样的习惯。如此(当然撇开在手心里抓一对球的这样不太微妙影射)我感觉在中国核桃被雷击了男子气的品质。不过把核桃打开,我看核桃壳又包含许多女人气的刻板印象和规格,而与金葱粉包含的比喻对比的很尖锐。
***
字7世纪以来,外国人来中国教英语。不过直到20世纪70年代末文革末期,强烈的学习英语的热情才开始形成。目前英语教育是一种300亿元(4.5亿美元左右)产业。对于很多人来说,英语教育代表接入更好的教育,工作,经济流动性,升入精英的机会,而又让自己又让整个中国在全球更有竞争力的可能性,尤其跟全球北部。但是除了跟这些国家竞争的目的以外,能流利说英语的愿望也表示很多中国人培植洋气或者欧洲的素质,模似"whiteness" (但一定跟中国的特色)。
一个人说她在北京当外教的时候,他人的调,转眼睛,悄悄地判断表表达什么态度,什么感觉,什么不满?
对我来说这个展览由许多方面,但比较重要的一部分是我希望它能引起关于种族和外国人日常接触/行为在中国的议论。虽然在美国关于白人特权的对话现在变得挺流行,其实是我教而住在中国的经验最让我有形地发现我皮肤带着的特权。尤其是在北京,这样又有优裕又有特权的城市(但也是在别的城市里),我感觉常常学生,父母,或者学校有无言的希望我的课堂不只是能学英语的空间,而是能学到洋气/"whiteness"的空间,吸收我的做派,我的特权,让我的学生更能走成功之路。
这些愿望和其他的都常让无论什么白皮肤的外国身体,不管他没有证书或经历还能收好机会的状况存在。这个状况的滥用不可避免地会导致学生,父母,有色人种的老师的损害,而后果肯定及其蔓延。因为在中国,无论外国人还是中国人,主体老师是女性,我们也必须思考女人如何被这种失衡格外受伤害。
作为白皮肤,美国的外交,我的展览算是一种办法来让我更批判地思考我在参与这个制度,我在日常生活中所做的选择,以及我的参与和选择对他人有什么影响。我认识到,我在做这项工作时,在我这里写下的话,以及别的情况,我的话和行为会有问题是几乎不可避免的。但我正在努力改变,我希望你能和我分享你的想法和,反应,批评。
欧洲为中心的外教产业也算是另外一个会破灭的泡沫,一爆英语课本和金葱粉。
-Amalya Megerman

(Much thanks to Shi Tongmei for editing the Chinese version of this statement.)